Take It From Me: A Graphic Design Student's Advice on How to Not Screw Everything Up is an online resource for graphic design students.
As a way to give back to my fellow design students at Portland State University, I created this website for my senior thesis project in which I became the researcher, creative director, designer, website developer, photographer, hand-letterer, interviewer, and content writer.
Over the course of nearly six years as a graphic design student, I've have had countless all-nighters, printing disasters, frustrations, regrets, and lessons learned the hard way. Take It From Me came out of a desire to see more written material about what it's really like to be a design student. It's an attempt to open up a "living room" conversation about these unspoken frustrations—because I'm not the only one who's ever experienced frustration, anxiety, and the fear of not being "good enough."
This project was quite an undertaking—requiring more than just my own words to discuss these topics ranging from time management, to stress and self-care. To inform the writing, I conducted research in the form of surveys to gather information from design students at PSU, interviewed my peers about their work and process, enlisted help from my professors, and collected quotes from design books that are used throughout the site.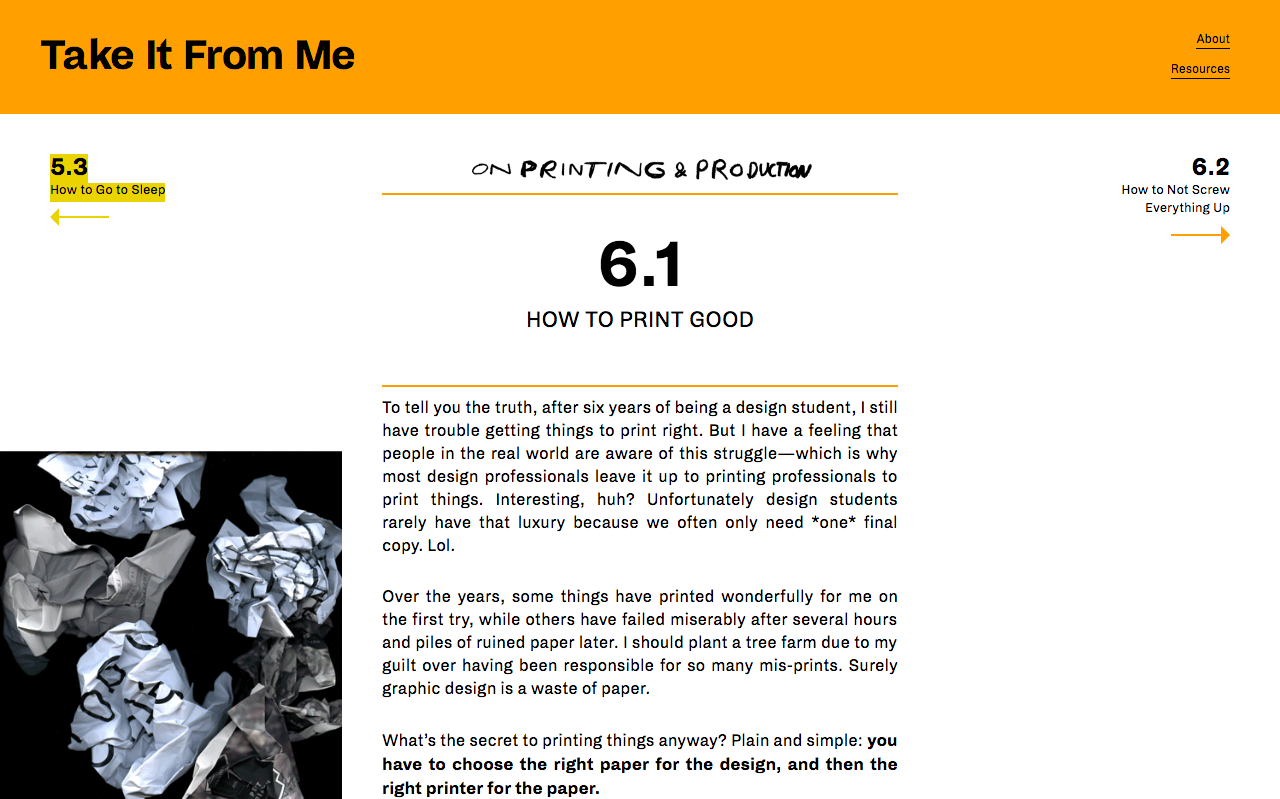 The site uses Dia by Schick-Toikka as the sole typeface. The rest is messy-looking hand-lettering that alludes to the various frustrations I go on to describe in great length throughout the site.
The organization of the site loosely follows the structure of a self-help book—on the home page you can essentially jump in anywhere, and once you're inside the content, you can move easily between topics. The gradated color-coding separates the topics in order of the design process.
Hand-done type and illustrations throughout the site evoke an angsty feel, "disrupting" the site's otherwise clean and minimal aesthetic.
Scans intended to portray the "invisible desk" bring certain topics of discussion to life in this relatable context.
I wrote chalkboard "lessons" to talk about the things that some, if not all graphic design students generally have to learn the hard way.
Rotating .gif was used to advertise the site on social media, and postcards with the site's URL were dispersed around PSU's campus and elsewhere.